The Test Centre Traffic Jam
19 November 2021
Key findings;
Dundee currently has the shortest waiting list in Britain, currently standing at one week.
London is in last place with zero test centres open for bookings.
Rotherham has the shortest waiting list in England for booking your driving test at 2 weeks.
Yorkshire has the highest number of test centres, currently taking bookings at 18 different locations.
Hartlepool is the only test centre open for bookings in the North East, with a waiting list currently 23 weeks long.
Since Britain came out of lockdown from the COVID19 pandemic, thousands of budding motorists have found it physically impossible to book themselves in for their long-awaited driving tests. Here at Leasing Options, we thought we'd do some scouting around for all you soon-to-be petrolheads to find the nation's test centres that have the shortest waiting lists, so you know where the best place to go near you is.
Yorkshire Is The Best Region In Britain For Booking Your Driving Test.
If you're looking to book a driving test, Yorkshire is currently the best region in Britain to do so. Currently, there are 18 test centres where the waiting list is under the 24-week cutoff. (After 23 weeks, test centres simply show "no bookings available").
It has 3 more test centres open for bookings over the North West, which finds itself in second place as with 15 centres, followed by Scotland with 14.
It also houses the best place in England to book your test, which is Rotherham, with only a 2-week waiting list, according to Driving Test Cancellations 4 All.
North And South West Rank High
Behind Yorkshire on the best regions to book a test are the North and South West. The North West currently has 15 centres open for bookings, with Barrow in Furness topping the list at a 13-week wait. Closely following is Liverpool that has 3 centres open. Norris Green has a 14-week wait, with Southport and Speke both standing at 16, the same amount of time you'll need to wait if you're in Blackpool.
As for the South West, 14 centres are taking bookings, with your best location being Chippenham, currently sitting at a 7-week wait, closely followed by the Avonmouth test centre in Bristol at 9 weeks.
Dundee Is The Best City In The Nation
If you need a driving test and need it now, your best bet is currently Dundee. Despite being the fourth largest city by population in Scotland, if you book there you'll only need to wait one week before you can take a test.
As for Scotland overall, they have 14 test centres where you can currently book a test, one of the highest regions on our list. Aside from Dundee, Dumfries is the next best location for booking your driving test, with only a 2-week wait, and Glasgow is the only capital city in Britain currently taking bookings, with Baillieston and Shieldhall standing at a 19-week wait and Anniesland slightly longer at 20.
London Is The Worst Region For Booking A Driving Test
Perhaps unsurprisingly, London is the worst place in Britain to book a driving test. England's capital currently sits at zero test centres open for bookings, which may cause wannabe drivers to look outside the region to try and pass their driving test. Regions such as the South West and South East currently have 14 and 9 test centres open respectively for bookings at the moment.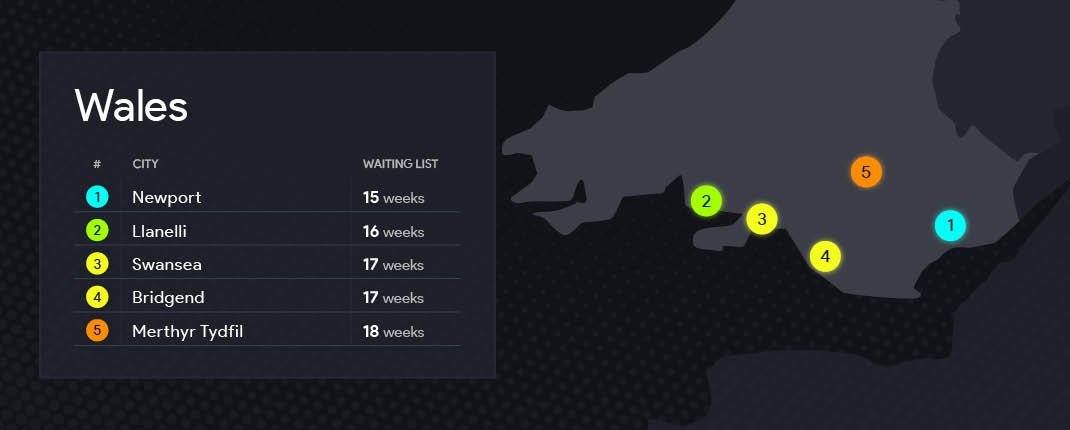 Wales Falls Short
Out of the three countries in Britain, it's Wales that currently has the least amount of driving test centres open for bookings, with only five centres open compared to Scotland's 14 and England's 103.
No bookings are available in the nation's capital but if you can wait between 15-18 weeks you can still book in Newport, Llanelli, Swansea, Bridgend and Merthyr Tydfil.
If you're currently attempting to book your test, we wish you all the luck for the test. If you pass, let us be the first to say congratulations! Secondly, this is the time where many of you may need to start hunting for a new car that'll finally allow you to get on the road and begin driving for yourself.
If so, here at Leasing Options we have an amazing selection of cars that are perfect for new drivers looking to get behind the wheel of their very first car. If that's you, simply head over to our car leasing page and begin your search for your perfect vehicle. Once you've found the car for you, get in touch with us and we'll help you through the process and get you on the road as soon as possible.