Ford's rambunctious Ranger Raptor Review!
25 October 2019
We recently got hold of Ford's Ranger Raptor to see if it has the fun to match the bully-boy looks and promising name.
There is every chance you may heard of the 'Raptor' name before, because the Ford UK's Ranger Raptor has an older (and, of course much larger) American sibling – the F-150 Raptor. But while that houses a chunky V6, our new Raptor is the watered down version for the UK and the rest of the world.
It takes its attitude from the USA F-150 Raptor's performance-focused intent, but on a lesser scale. So, is it a clever new take on Europe's best-selling pick-up, or has Uncle Sam diluted its Ranger Raptor especially for us?
Exterior
The Ranger Raptor sits atop the Ford Ranger line-up above the XL, XLT, Limited and Wildtrak trim levels. It gets a number of visual changes, including a redesigned front grille that visually draws on the F-150 Raptor's snout.
The design of the front and rear bumpers has also been tweaked, while there are heavy-duty running boards on both sides and optional Raptor branding is available with either the grey or Performance Blue paint finishes on offer.
The Raptor is also marginally wider and longer than the standard Ranger, with very slightly increased angles of approach and departure over the regular Ranger, as well as 2.3mm-thick. steel bash plates to help deflect off-road obstacles.
If that weren't enough, the Raptor's chassis is different from that of other models in the range to give it more strength for the more serious off-road lifestyle.
Interior
On the inside, the changes are harder to spot. There's a pair of leather and suede seats that are heated and electrically adjustable, a sports steering wheel, a smattering of blue stitched leather on the dashboard, a different instrument cluster and Ford's decent SYNC3 infotainment system set within an 8.8-inch touchscreen.
The Raptor's seats are heavily contoured for off-road support, and feature dual-firmness cushions plus that suede-effect material, which tends to hold you really well, especially when the truck is moving around a lot.
Aside from those great chairs, our favourite bits about the Raptor's cabin are the new instrument cluster - which adds a proper rev-counter alongside the speedo, with a multifunction display in the middle - and the use of a cool Ceramic finish on areas of trim that are more often chrome in other Rangers.
The icing on the cake is the pair of magnesium gearshift paddles and a multifunction sports steering wheel with a dead-centre marking point (genuinely helpful off road when the way the front wheels are pointing and the direction of travel want to go their separate ways).
The Ford Sync 3 infotainment system is the firm's very latest 8.0-inch touchscreen multimedia solution, complete with Android Auto and Apple CarPlay. As mentioned above, built-in navigation offers the option to lay 'breadcrumbs', which you can then use to find your way back, even if you're travelling where there aren't any roads.
Ranger Raptor upgrades
The list of modifications on the Ranger Raptor over the standard Ranger is expansive. Upgrades include front and rear Fox Racing Shox shock absorbers; rear coilover spring conversion (instead of the usual leaf springs) with new Watts linkage to stabilise the suspension movement in extreme off-road driving and sharpen on-road dynamics; a modified chassis frame for increased strength and revised suspension geometry to suit raised ride height. There's more…
New forged aluminium upper front suspension arms and cast aluminium lower suspension arms for increased suspension travel, replacing heavier steel items; front brake calipers with 20 per cent larger pistons; six-mode Terrain Management System, and more.
It's so far removed from the standard Ranger that it's almost like an entirely new vehicle.
Engine and transmission
The Raptor is fitted with a 2.0-litre EcoBlue diesel producing 210hp and 500Nm of torque. It's a punchier engine than its 0-62mph-time of 10.5 seconds would suggest, paired with a new 10-speed automatic gearbox and four-wheel drive.
Six driving modes adjust the Raptor's traits, with 'Sport' pumping a V8 sound through the speakers and 'Baja' adjusting the pickup for fast driving over rough terrain.
The engine uses sequential turbocharging – one small turbo for instant response that feeds into a large turbo for top end power – which makes it very quick to spool up and get moving.
The chassis means you can still make plenty of progress on the road, since you no longer have to slow down so much in the turns; but off-road – especially on sand – there are occasions where you really want some more muscle - and the Raptor doesn't have it.
And that's despite the generous spread of gear ratios available in that 10-speed gearbox, which shifts quickly and smoothly in both automatic and manual modes.
To put this performance issue into context, the most potent 258hp V6-powered VW Amarok and Mercedes X-Class totally shade the Raptor for raw speed.
On the road
On the black stuff, those trick new dampers are satisfyingly soft in the middle of their travel – which is where you'll be most of the time on the road – and this together with ditching the rear leaf springs means it is way more comfortable than a regular Ranger, if still not quite on a par with a proper passenger car.
Yet it also leans less in corners, allowing you to carry more speed. Naturally, lumpy tarmac isn't much of a challenge, either.
The off-road tread pattern of those big tyres means there's occasionally a little bit of squirm beneath you, but refinement is more than acceptable – thanks in part to the Ranger's new noise-cancelling system.
The steering is light but more accurate than you might think and the Ranger Raptor corners without too much roll. The 'Baja' drive mode is also noteworthy; named after a famous off-road endurance race, it's a setting designed to allow driving over rough terrain at scarcely believable speeds.
Off the Road
The Ranger Raptor is incredible off-road. The upgraded suspension and chassis are absolutely everything you'd want them to be. The Raptor will take huge impacts – whether that's sudden bumps or dips – and just keeps going, generally without mashing your head in to the ceiling in the process.
Sure, you will still get thrown about, but the clever choice of seat fabric stops you sliding around as you would on leather. Extended sections of heavily rutted sand are jarring, but the dampers soak up the repeated bouncing early and full enough to allow you to keep on carrying speed that would simply shake most other pickups – and their occupants – near to death.
The BF Goodrich tyres are astonishing for grip, and even if you do get stuck the Raptor will usually be able to dig itself out.
Safety
Safety technology isn't generally a pickup strength but the Ranger is an exception, being the first in its class to receive a five-star crash-test rating from Euro NCAP. Its 96 per cent score for adult occupant protection is particularly impressive.
Standard safety features include hill start assist, hill descent control, trailer sway control and stability control designed to help reduce the risk of a rollover.
Any caveats?
Unfortunately, the Ranger Raptor doesn't qualify as a light commercial vehicle (LCV) for taxation purposes.
The heavily reinforced and upgraded nature of this pickup has driven the minimum kerb weight up to 2,510kg. With a gross vehicle mass 3,130kg, this means maximum payload of just 620kg.
To be considered a light commercial vehicle, a pickup has to be able to carry over a tonne - that's 1,000kg.
Because the Raptor can't do this, you'll not only have to pay VAT on it but also much higher rates of road tax and company car tax, rather than the cheaper fixed rate of both available to LCV drivers.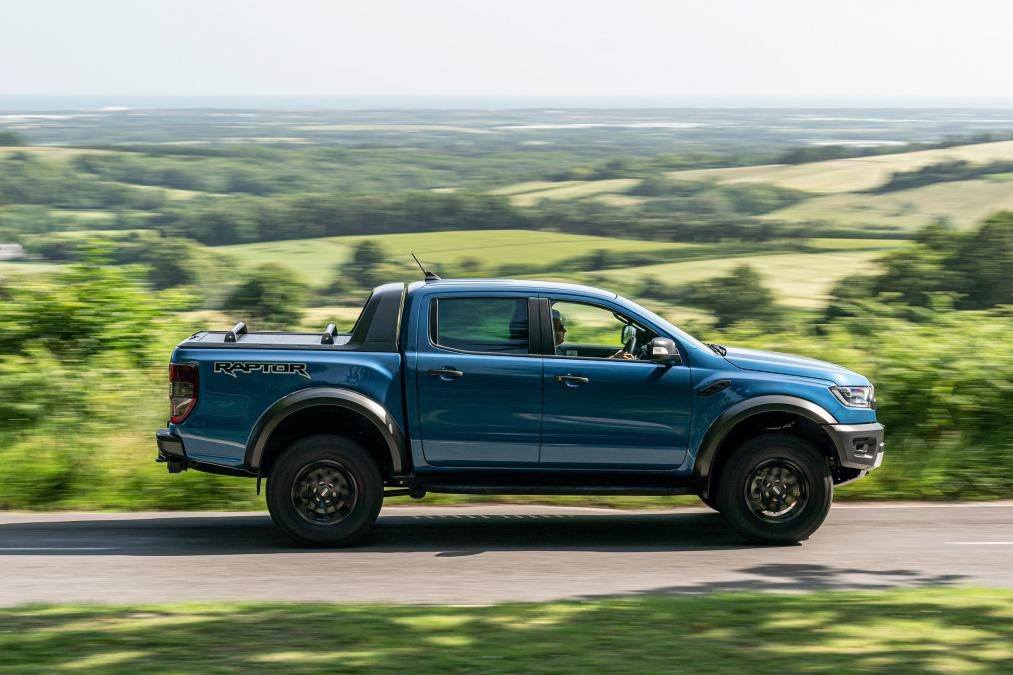 SUMMARY
The Ford Ranger Raptor pickup offers something unique. It's a high-performance take on the UK's most popular load-lugger but with the emphasis on effective off-road ability rather than outright speed on it. It's the currently the UK's ultimate expression of Ford's 'Built Tough' slogan.
* Browse our top leasing deals on the Ford Ranger pick-up.