BMW X5 xDrive 45e PHEV Review
27 April 2020
BMW's 2020 X5 xDrive45e plug-in hybrid gets a bigger battery, two extra cylinders and a 54-mile electric-only range.
Developing a plug-in hybrid is pretty straightforward – on paper, at least. Take a regular hybrid, find room for a bigger battery, add a charge port and…boof, there you go. Fuel economy jumps, owners have the option to make short trips on only electric power and the price doesn't jump nearly as much as it would if you'd gone all electric. Job done, yes?
Well, sort of, perhaps, maybe.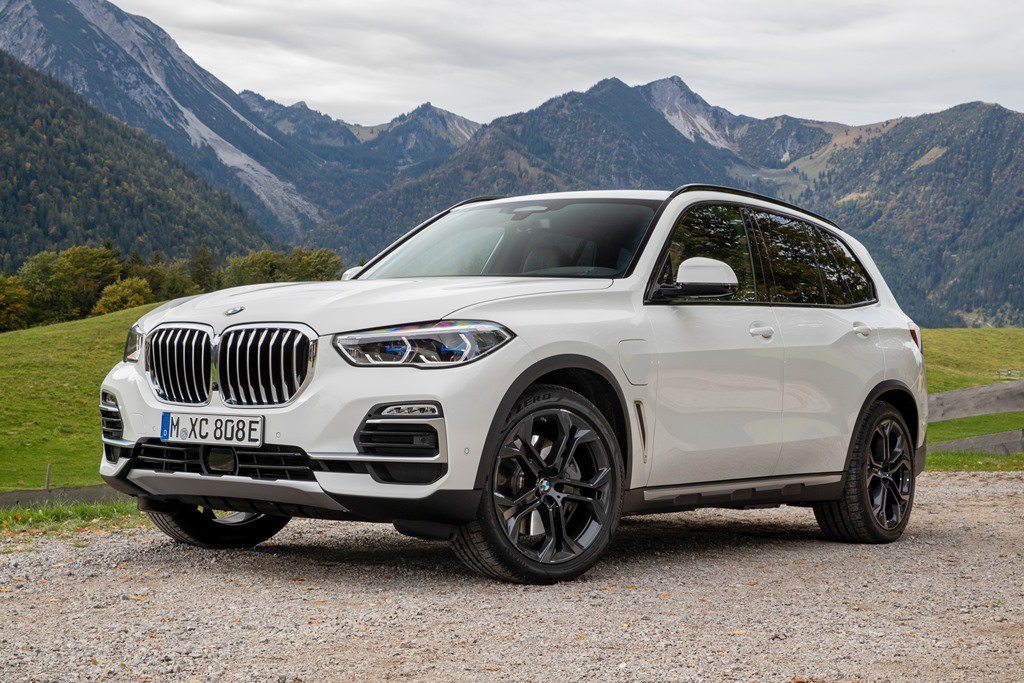 You also need to consider how buyers will use the car and how choosing the plug-in version can best benefit them and their life-work balance. Those factors need to then influence the way you integrate the electric powertrain by choosing to take the Lewis Hamilton or Greta Thunberg route…some PHEVs are better if the powertrain improves performance, while others are better if it's all about efficiency.
As of April 2020, PHEV company cars will be classified not only on their WLTP-rated CO2 emissions but also how far they can be driven on electricity alone. Essentially, if your plug-in hybrid can do more than 40 WLTP-rated miles in EV mode, then your benefit-in-kind (BiK) company car tax burden is almost halved.
What's new for 2020?
For its 2020 model year, BMW has beefed up its fourth-generation X5 plug-in hybrid to a point where it claims the car can now run for over 50 miles on electric power alone – with associated BIK tax benefits for company car users. This has been achieved thanks to a significant increase in battery capacity: it's now 24kWh, up from just 9.2kWh in the previous-generation X5 xDrive40e introduced in 2015.
Swimming against the tide, BMW has switched its previous four-cylinder engine for a chunky 3.0-litre turbocharged straight-six, which sits alongside the 111hp electric motor for a combined 389hp and a thumping 600Nm of torque.
Interior
Aside from several PHEV-related information screens, there is little to differentiate between the regular X5 and this plug-in variant.
Fortunately, BMW's previous climate control panel of many (many) buttons has met its timely demise and replaced by a more modern and decluttered centre console. You get knurled switches and a crystal-like gearshift which brighten up an otherwise featureless and rather uninspiring facia.
Practicality and space
Despite the PHEV-related kit that the X5 xDrive45e has to carry around, impact on overall interior space and its functionality is minimal. Luggage space is only 150 litres less than the generous 650 litres available on the car's conventionally-powered counterparts. So, with 500 litres available with all the seats in use and a cavernous 1,750 litres with the rear seats folded, there is little compromise and most customers won't notice the difference, to be fair.
In keeping with somewhat of a tradition with the X5, you still get a split tailgate as standard (which we like). It's definitely a selling point if you enjoy an outdoor lifestyle.
Trim grades and equipment
There are just two trim grades on the 2020 X5 xDrive 45e; the well-equipped xLine and very well-equipped M Sport. The standard car comes with a decent amount of equipment – automatic gearbox, all-wheel drive, air suspension, and BMW Live Cockpit Professional.
BMW says around 80% of customers will disregard the range-entry trim and opt for the M Sport which gains 20-inch alloys, an M Sport body kit and accompanying badges. The Live Cockpit Professional is the same dual 12.3-inch screen set up from the 8 Series and is all very pleasing to the eye.
PHEV powertrain and transmission
The previous X5 xDrive 40e had to make do with a sub-200hp 2.0-litre four-pot petrol engine, the new 45e is blessed with BMW's 3.0-litre, straight-six TwinPower turbocharged lump of goodness. With 282hp, this is where the additional power has come from, as the X5 45e has retained the same 111hp electric motor as its predecessor.
Total system power now stands at 389hp – around 80hp more than before – and 600Nm of torque which is fed through BMW's eight-speed Steptronic gearbox. This has brought down the 0-62mph time to 5.6 seconds, which is 1.2 seconds quicker than the old car. It tops out at 146mph.
Another significant advancement for the X5 xDrive45e is in its battery capacity. The available 24kWh makes it one of the largest PHEV batteries on the market. To better understand the significance, the increase of 14.2kWh over the previous 40e is more than the entire capacity of Volvo's latest T8 Twin Engine battery of 11.6kWh.
Charging
Like most plug-in hybrids, the general idea is that you recharge the battery overnight at home or at work during the day. That way, not a drop of fuel will be consumed during your commute.
Topping the battery up using the 45e's 3.7kWh charger takes a sluggish seven hours and therein lays the car's Achilles heel – it lacks any fast-charging capabilities. It would be nice to have the option of quicker charging for other scenarios such as long-distance cruising or holidaying.
On the road
At two-and-a-half tonnes, the X5 xDrive 45e is no lightweight, however, the instant torque from the electric motor is enough to disguise its bulk from behind the wheel.
Hybrid mode is the default setting on start-up, which means you'll pull away silently from a standstill. However, burying the throttle will engage the engine too, resulting in 0-62mph in a brisk 5.6 seconds en route to a top speed of 146mph. The automatic shift between the two modes is impressively seamless, and BMW also gives drivers the option of manual control.
Air suspension is standard on the xDrive 45e and does a good job of keeping the body in fairly tight check if you go for one of the sportier modes. More likely, you'll leave it in default Comfort and just enjoy the big SUV's faultless cruising manners.
Off the road
Thanks to the selection of driving modes that adapt the ride height and suspension settings to cope with different surfaces, the 45e's off-road capabilities are impressive. You can take on sandy, gravel-strewn, snowy and even rocky terrain with a simple tap of the touchscreen. However, on the standard 19-inch wheels shod with regular road tyres, muddy tracks and soggy fields that look suspiciously deep would best be avoided.
Safety
Euro NCAP awarded the regular BMW X5 a top five-star score following extensive crash-testing. Pretty much every modern active and passive safety system is on board, from autonomous emergency braking to an evasion aid that can help you steer to try and avoid a collision.
SUMMARY
The previous X5 40e PHEV dropped the large hybrid SUV off the pace relative to its competition. However, this 2020 BMW xDrive 45e is a supremely impressive car and leapfrogs BMW ahead of the PHEV pack in many if not all areas.
Despite the extra weight it carries courtesy of its much-improved electric powertrain, it drives like a regular X5. Yet the benefits from its increased hybridisation are not to be underestimated when it comes to both its on-road performance and its taxation as a company car.
* Browse our top leasing deal on the BMW X5 xDrive 45e PHEV.