Car Leasing Jargon Buster
New to car leasing? Find out what everything means in our complete Jargon Buster. Plus get the answers to the most asked questions on car leasing.
Car leasing has become an increasingly popular method of motoring in recent years, but if the online search data is anything to go by, many drivers are still in the dark on the subject.
An alternative to purchasing a car with cash or on finance, leasing is a long-term rental. If you're considering a lease for your next car, it's worth reading up on the ins and outs.
We've calculated yearly averages on the most asked questions, and also pulled together some of the more common leasing terms and their definitions.
Car leasing jargon buster
Admin fee - An administration fee is the charge for starting up an agreement, and is included in most lease deals. Many providers will also charge admin fees for changes to your agreement, for example adding or amending named drivers. Orders with Leasing Options include a standard processing fee of £199 including VAT.
Broker - A broker is a middleman between buyers, manufacturers and leasing companies. They are independent and work to find the best deal for customers, while also providing help and support on the leasing process. Leasing Options is a credit broker and not a lender.
Business Contract Hire (BCH) - Business Contract Hire is a leasing option for companies, which allows VAT to be claimed back. This option is also available to the self-employed — read on for some of the most searched business leasing queries.
BVRLA - The British Vehicle Rental and Leasing Association (BVRLA) is the trade body for car leasing in the UK. They licence brokers and are responsible for creating the industry-wide Fair Wear and Tear Guide. Leasing Options is a member of the BVRLA.
Contract length - This is the duration of a leasing agreement, which is often specified as "3+35" or similar, with the first number representing the initial rental and the second number representing the number of monthly instalments. In our example, the initial deposit is three times the monthly payment value and is followed by 35 instalments.
Credit score - This represents the creditworthiness of a buyer, or in simpler terms, how suitable a buyer is for credit. It takes into account your existing financial commitments and also payment history, and creates a score between 300-850 that reflects how suitable you are to take on a financial contract and comfortably keep up with the payments.
Deposit - Initial rental, explained below, is sometimes casually referred to as 'deposit', but the two terms shouldn't be confused. Unlike the deposit you pay when renting a home, which may be paid back to you at the end of the agreement, the initial rental on a car lease is non-refundable. This amount is calculated within the depreciation of the vehicle and isn't returned to you.
Depreciation - As a car ages and clocks more miles, its value drops — this is called depreciation. The steepest drop is normally found at the start of a car's life. Your lease deal price is calculated with depreciation in mind and factored into your monthly payments.
Excess mileage - Most leasing agreements come with a mileage limit, and you'll be charged a set fee for going over it. Leasing Options deals come with a range of up to 30,000 miles per year, and in certain circumstances the option of raising that to 50,000. Mileage beyond this is charged at a rate of 5p per mile.
Fair wear and tear - Leasing companies expect their cars to be returned in good condition, but minor scratches and scuffs, for example, are expected — this is fair wear and tear. If the imperfections are more extensive, it's likely the leasing company will add extra charges. The BVRLA has a Fair Wear and Tear Guide which is provided by most leasing companies.
Financial Conduct Authority (FCA) - The Financial Conduct Authority (FCA) regulates the UK financial market, protecting both consumers and companies selling finance. Leasing Options is authorised and regulated by the FCA, so you can have confidence in the service we provide.
Funder - In the case of leasing, the funder provides finance for an agreement. Leasing Options works with 12 carefully selected funders to ensure each contract is tailored to a customer's requirements, including as Arval, Lex and Hitachi.
GAP insurance - This insurance covers you in the event of a write-off. If your vehicle is written off and your insurer won't pay the full amount owed, GAP insurance can cover the shortfall. It's well worth considering if you are leasing or financing a vehicle.
In stock - This term applies to models that are with the leasing company and readily available for customers. An in-stock model can be delivered in as little as two weeks. You can also place an order on a vehicle, which may be subject to an extended lead time. See below for an explanation on lead times.
Insured leasing - We offer insured vehicle leasing through our Fuel & Go scheme. Your car payments, insurance, maintenance and tax are all included — you just add fuel. It also covers breakdown cover and covers any financial gap in the event of an accident. Find out more on insured car leasing and its benefits.
Initial rental - The initial rental, commonly known as a down payment, is the sum you have to pay before starting an agreement. In leasing, this is usually calculated as the equivalent of several monthly payments — with Leasing Options, the initial rental is one, three, six, nine or 12 months' worth. A higher amount normally precedes smaller instalments, which is worth bearing in mind when tailoring an agreement to your budget.
Lead time - The lead time is the time between ordering a brand-new model and it being delivered to your preferred dealership. Depending on how personalised your order is, with added extras etc., this can take weeks or even months. Other factors have also had an effect on this, including the newer WLTP range tests and coronavirus pandemic.
Miles per gallon (MPG) - This is the measure of fuel efficiency, as the number of miles a vehicle can travel for each gallon of fuel used. The higher the figure, the more miles you get from a tank of fuel, and thus the more efficient a vehicle is.
Part exchange - A part exchange involves selling your current vehicle to put money towards a new agreement or cash purchase. To make leasing more affordable, we offer part exchange — we'll also collect it from you and don't charge, unlike other car-buying services.
Personal Contract Hire (PCH) - This is the official name for a personal car lease. The agreement is paid for in monthly instalments, with no option to own the car.
Price Match Promise - The Leasing Options Price Match Promise offers peace of mind on leasing with us — if you find a cheaper like-for-like deal elsewhere, we'll match it or send you a £50 gift card.
Residual value - This is the amount that a leasing company expects a vehicle to be worth at the end of an agreement, considering all factors of depreciation. The value is determined at the beginning of an agreement and has a direct impact on your lease deal price.
Road tax - Road tax, also known as road fund licence and Vehicle Excise Duty (VED), is an annual taxation that applies to roadworthy vehicles. The amount you pay depends on the vehicle in question and how much CO2 it emits.
Generally, the more expensive a car is and the more CO2 it emits, the higher its road tax is. There are some exemptions to the tax, including all-electric vehicles or those used by disabled drivers.
Road tax is included in all deals with Leasing Options.
VAT - Value-Added Tax (VAT) is the rate of tax, currently 20%, that many transactions are subject to. This charge is usually included and accounted for in all leasing costs. If you're taking out a business lease, however, you may be exempt from VAT.
Understanding the main leasing terms is only half the battle. Here, we'll run through some of the most searched questions on the subject.
What is leasing a car?
Unlike PCP or HP deals, in which finance companies retain ownership of the vehicles until you've paid the monthly instalments and a balloon payment (in the case of PCP), a leased car will always return to the leasing company at the end of the agreement.
Although you will never own the car, the other benefits appeal, like the option of upgrading to a brand-new model every few years. Find out more about car leasing in our advice section.
How does leasing a car work?
After choosing the make, model and trim you're after, you agree on an initial rental payment, length of the agreement (two to four years with Leasing Options) and annual mileage.
These three factors, in addition to the model you've chosen, have the biggest impact on what you'll pay per month; paying instalments over a longer period, lowering your mileage and putting a larger initial rental down will all lower your monthly payments.
Is leasing a car worth it?
Leasing is worthwhile if you like driving a brand-new car every few years, with fixed monthly payments.
One of the most important factors in motoring is affordability; you need to make sure the models you're considering are within your budget, along with the other factors that will raise the price, like the duration of the agreement and mileage.
Browse our online guides for more on the benefits of car leasing, or contact us to speak with one of our Account Managers.
Should I lease or buy a car?
If you want to own the car, you can buy outright or on finance, but if you'd rather have use of a brand-new car and the option to upgrade every few years, leasing is the best option.
There are many factors involved, and all must be considered before committing. This page will help with many of the general queries, alongside our guide on which is the best option for you.
Can you lease a car with bad credit?
This is something that's judged on a case-by-case basis. Leasing can even improve your credit score, but it's important that any agreement is affordable at both the point of signing for it and throughout the contract.
To find out more on the options available to you, contact us and speak with one of our Account Managers.
What is the initial rental when leasing a car?
This is jargon for 'down payment'. It's calculated using a car's cash price as new, and the expected value at the end of the agreement (residual value). It can also be lowered or raised, which in turn affects your monthly payments.
Generally, a higher initial rental will result in less to pay each month. Affordability, as always, is a key factor here. For more info, read our guide on the initial rental and what it means.
How do I get a business car lease?
Any LTC, PLC, sole trader or partnership company can apply for a business car lease. The next step is choosing a model and agreement plan that suits.
Our Account Managers and business car leasing guide can help with each stage, including the eligibility checks and purchase. For more help on the stages involved, get in touch with our team.
Are car lease payments tax deductible?
For most types of lease, the monthly payments are tax deductible, but there are some exemptions you should be aware of. If your model's CO2 emissions are over 110g/km, for example, your leasing payments aren't fully tax deductible.
To be sure, read up on our business car leasing tax implications guide before committing.
Can the self employed get a business car lease?
You can get a business car lease if you're self employed, but you may have to provide your latest set of trading accounts, bank statements and proof of address and ID.
For more information, read our business car leasing guide or get in touch with our Account Managers.
Should I lease or buy a car for my business?
The search volume for this question is surprisingly low, as it's probably something you're considering if you're in the market for a company car.
Each option has its own benefits, so it's largely down to preference. Leasing lets you switch to a brand-new car every few years, but doesn't allow for ownership at the end of an agreement. It's worth considering what would be more beneficial to you and your business in the long run.
Should I lease or buy a car for my business?
The search volume for this question is surprisingly low, as it's probably something you're considering if you're in the market for a company car.
Each option has its own benefits, so it's largely down to preference. Leasing lets you switch to a brand-new car every few years, but doesn't allow for ownership at the end of an agreement. It's worth considering what would be more beneficial to you and your business in the long run.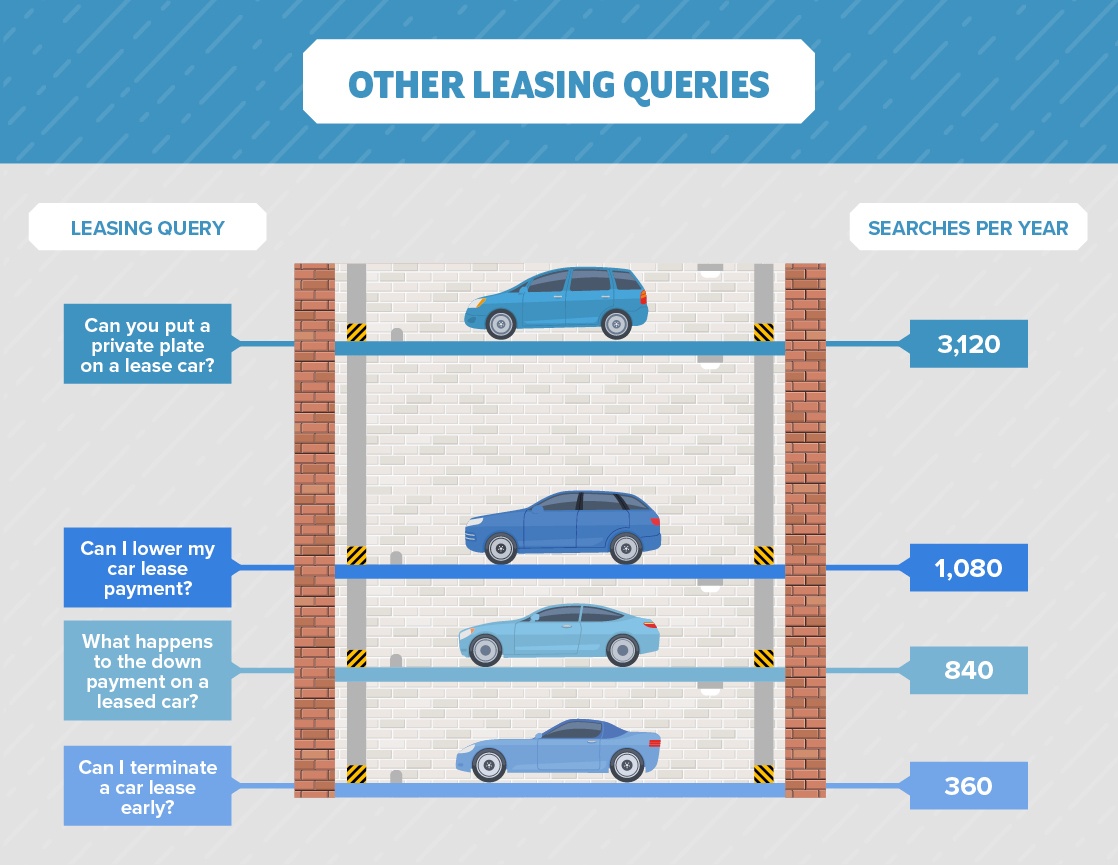 Can you put a private plate on a lease car?
In short, yes, but as the car isn't owned by you, it's not as straightforward as just swapping the plates. Firstly, you'll need the permission of the company who leased you the car, as it is the registered keeper.
This is something Leasing Options has no objections to, so you shouldn't have an issue getting our agreement. Just make sure you let us know! There may be some forms you need to fill out to record the change, but contact us and our Account Managers can chat you through these.
Can I lower my car lease payment?
Usually, this can only be done before an agreement is started, when building your plan, or by extending the agreement's duration once you've taken it out. This is at a leasing company's discretion, however, so it's always worth getting in touch to discuss your options.
If you're struggling with payments, it's important that you speak with the leasing company, as defaulting on your instalments could have worse implications. There are always options, and if your agreement is with us, we'll do our absolute best to help out.
What happens to the down payment on a leased car?
The down payment, officially the initial rental, is an advance payment towards the cost of the lease. A larger initial rental doesn't affect the amount you'll pay overall, but it will lower your monthly payments as you've covered a larger chunk of the total cost.
It's best to find a balance of initial rental and monthly instalments that is affordable in the short and long term.
Can I terminate a car lease early?
Terminating before the end of your agreement is possible, but this could land you with heavy charges that may include all remaining payments.
If you're a Leasing Options customer considering this, or want more info on what the options are, get in touch with our Account Managers who are on hand to help out.
Next steps
Get the full lowdown on car leasing in our advice section, which is full of more in-depth info, broken into relevant categories. Or if you're at the stage of considering models, have a look at our personal or business leasing deals.