How much does it cost to lease a Porsche?
Drive a brand new Porsche for less than £600 a month. Find out more in the lease price comparison guide from Leasing Options and see how you can fit this luxury vehicle into your budget.
How Much Does a Porsche Lease Cost?
For the cheapest car, a Porsche lease will cost around £560 per month, with the most prestigious models priced at approximately £1,450.
If you're looking for one of these luxury vehicles but can't decide which one fits your budget, check out our Porsche price comparison below to see the different specs, features and costs for three popular models.
Porsche lease price comparison
Under £600
Under £1,000
Under £1,400
Model
Porsche 718 Cayman
Porsche Cayenne
Porsche 911
Trim Level
Coupe
Estate Tiptronic S
Carrera 4 Cabriolet PDK
Manufacturer Cost
£44,074
£68,330
£94,201
Fuel
Petrol
Petrol
Petrol
Tank Size
54 litres
90 litres
68 litres
Engine Size
1.988 litre
2.894 litre
2.981 litre
Cylinders
4
6
6
Top Speed
170 mph
164 mph
178 mph
CO2 Emissions
186 g/km
209 g/km
182 g/km
Miles Per Gallon
34.9 mpg
30.7 mpg
35.8 mpg
Transmission
Manual
Auto
Auto
Gears
6 Speed
8 Speed
7 Speed
Wheel Size
18" alloy
19" alloy
19" alloy
Weight
1655 kg
2840 kg
1990 kg
Dimensions
(H x L x W)
1295 x 4379 x 1801 mm
1696 x 4918 x 1983 mm
1290 x 4499 x 1852 mm
Estimated Annual
Road Tax
£450
£555
£450
Doors
2
5
2
Seats
2
5
4
Standard Equipment
Turbocharge With Intercooler
Air Quality Sensor
High Resolution 4.6" TFT Display
Wifi Streaming
Towbar Preparation
Outside Temperature Gauge
Welcome Home Lighting
Rev Counter
Sports Button
Digital Displays
Automatic Stop/Start System
Dual Zone Climate Control
Safety Features
Porsche Stability Management
Multi-Collision Braking
Interior Radar Surveillance
Full Size Airbags
Optical Parking System
Roll Over Protection
Interior Surveillance
Remote Vehicle Services
3 Point Inertia Reel Seatbelts
Impact Protection Doors
Porsche Tracking
Impact Protection Doors
Extra Options
Personalised Floor Mats
Thermal And Noise Insulation Glass
Porsche Ceramic Composite Brake
Porsche Ceramic Composite Brake
Air Suspension
Front Axle Lifting System
Cruise Control
Night View Assist
Park Assist Camera
Reversing Camera
Burmester High End Surround System
14 Way Electric Sport Seats
*Price estimates are based on a personal, 4 year lease contract with a 6-month initial rental and an 8,000 annual mileage. Information and costs should be used as a guide only and are subject to change at any time. A sample of standard equipment, safety features and extra options have been selected.
Leasing a Porsche for under £600 per month
When it comes to top-of-the-range sports cars, the Porsche 718 Cayman Coupe is hard to beat. Its predecessor was already described as the ultimate 'driver's car'. Yet, somehow, they've managed to improve it.
Before we get into the details, let's cover the price. While Porsche recommend this car should cost more than £44,000, we can offer the Cayman on a lease contract or under £600 a month – saving you money without having to commit to owning a car that will lose value over time.
The 1.988 litre, four-cylinder petrol engine is more powerful than the previous version, powering up to 170mph when out on the open road. As you'd expect, the Cayman comes with a 6-speed manual gearbox and can hold up to 54 litres of fuel, which gets through just under 35 miles to the gallon. Even CO2 emissions have been cut down in the new Cayman, peaking at 186g/km.
It's hard not to fall in love with the handsome exterior of the Cayman, and once inside you'll find even more reasons to be smitten. Standard equipment is plentiful, including turbocharge with intercooler, Wi-Fi streaming, a digital display and welcome home lighting.
There's no shortage of safety features either. The Cayman comes with Porsche stability management (which improves traction while accelerating), cruise control, Porsche ceramic composite brake (which improves braking power and consistency) and a reversing camera to help with parking in tighter spaces.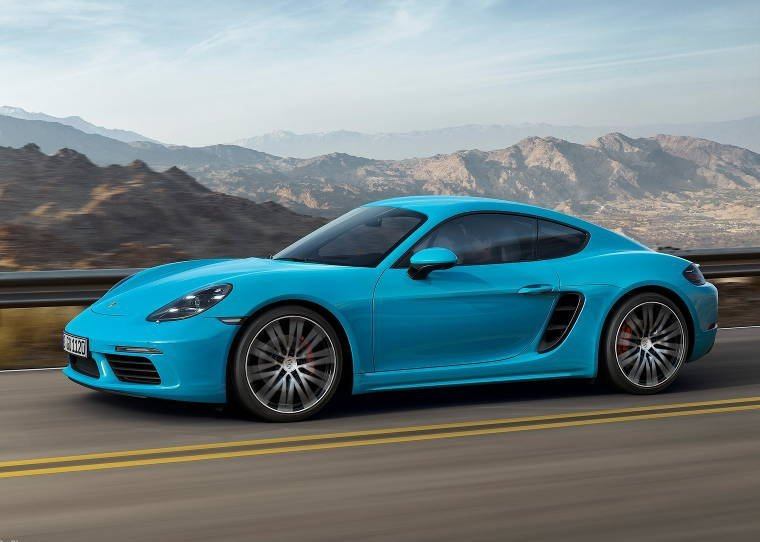 Leasing a Porsche for under £1,000 per month
The Porsche Cayenne Estate Tiptronic S is now available in its third generation model, aimed at those who are looking for something a little classier in the SUV class. You get everything you would expect from a Porsche – speed, comfort and style – without any compromises.
For less than £1,000 a month, you can hire a Cayenne with Leasing Options, which over a four-year contract is around £20,000 cheaper than paying the full retail price of over £68,000.
Upfront is a 2.894 litre, twin-turbocharged V6 engine that spins out a considerable amount of power via an 8-speed automatic transmission. Even though this is the largest model in the Porsche range, it's certainly no slouch, shifting from 0-62mph in an impressive 5.2 seconds, and can race on to hit a top speed of 164mph. What's more, the Cayenne ensures a quiet, smooth ride without much disturbance, and comes with a fuel tank that can hold up to 90 litres.
This car offers a range of standout equipment such as automatic stop/start, an air quality control system and towbar preparation. Moving on into the safety features, drivers can take advantage of remote vehicle services, an optical parking system, multi-collision braking and Porsche GPS tracking.
To upgrade this prestigious car even further, additional extras include night view assist, air suspension, thermal and noise insulation glass, plus a Burmester high end surround system.
Leasing a Porsche for under £1,400 per month
The Porsche 911 [991] Carrera 4 Cabriolet PDK adds to a long list of impressive cars already under the manufacturer's belt. Recognised as the most definitive Porsche, the 911 sits at the very top of the range. So when it comes to cost, it's no surprise the RRP is more than £94,000. But with Leasing Options, you can have the 911 for £1,400 a month – saving quite a bit of cash in the process.
Looking at the exterior, its sleek shape hasn't changed too much since the 911 was introduced back in 1963, but it still fits in seamlessly with today's style. Moving to the interior, you'll find a sports button for enhanced performance, an outside temperature gauge, a high-resolution 4.6" TFT display and dual zone climate control.
While some changes have been made since the car's original launch, under the hood you'll notice the engine is as powerful as ever. With the right configuration, you can blast from 0-62 in under 4 seconds, and the 2.981 litre, six-cylinder engine can power its way up to a top speed of 178mph.
In addition, the 911 includes a wide range of safety features, from interior surveillance to impact protection doors. And if you want to spend a little more, you can take your pick from extra options such as a front axle lifting system, a park assist camera, the Porsche ceramic composite brake, plus 14-way electric sport seats to improve driver and passenger comfort.
Why should you lease a Porsche?
Porsche continue to make some of the most respected and ground-breaking sports cars in the history of automobile manufacturing. Over the years, they have greatly expanded their range, with Porsche remaining as one of the most sought-after brands across the globe.
If you want to drive in style and turn heads wherever you go, then leasing a Porsche is a must. With leasing contracts available for under £600 a month, you'll end up paying far less on a 4 year contract than spending tens of thousands of pounds to own it outright.
Find your perfect Porsche with Leasing Options, or if you're in the market for another luxury brand, search all our lease deals available now.