The New Fully Electric BMW iX1
21 June 2022
Following the popularity of BMW's X1, the car maker has recently revealed its all-electric option – the iX1 xDrive30e.
This is the third model in the brand's electric range and is said to rival popular SUVs such as the Audi Q4 e-Tron and Mercedes EQA. It's planned to be released alongside the brand's petrol, diesel and plug-in hybrid options – and is set to bring modern design and good electric range to the small SUV market.
Read on to find out more about this new addition to the electric car market…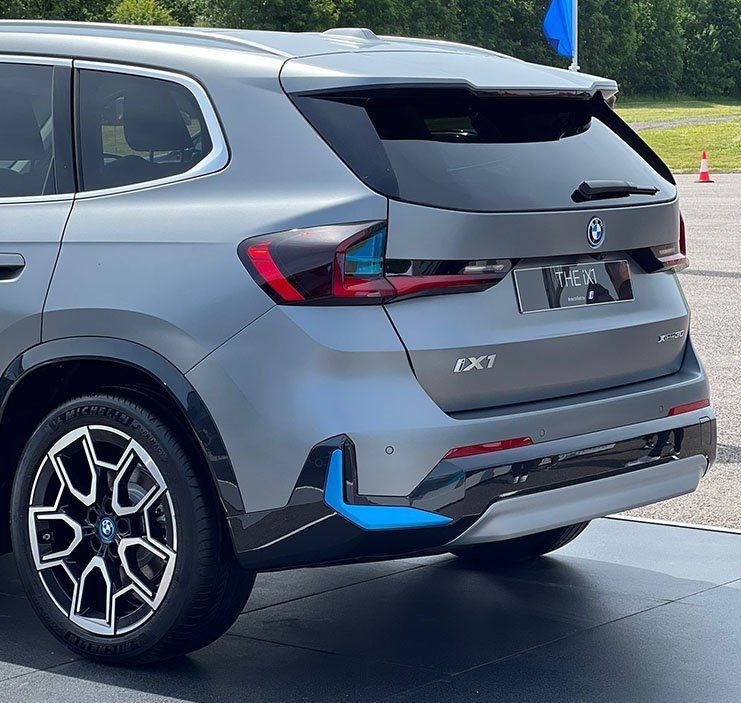 Exterior features
This model takes many design features from its traditional fuel-powered counterpart, the X1. At the front, you'll find a large grille with blue accents along with the trim. The car also has adaptive LED headlights to give it a striking presence on the road.
From the side view, you'll get a sense of its statement BMW styling with the additional blue accents moving from front to back. Another noticeable feature you can add is the 21-inch M Performance alloy wheels with Jet Black gloss finish. However, the standard choices give you either 17 or 18-inch Star-spoke alloys with slightly different looks – both complement the car nicely. The rear lights also have dark smoked glass for a modern feel.
Overall, the pure electric iX1 is slightly longer, wider and taller than the previous generation model. It also has an additional 22mm in the wheelbase.
Interior features
BMW has upped the modernity of the interior spaces in this new model. The most noticeable addition is the central console, which has two levels and sliding control. This space also integrates wireless charging on the lower segment.
On the dash, you won't find a maze of buttons to complicate things. Instead, BMW has a frameless and slimline 10.25-inch Curved Display with touchscreen and voice controls. This will get you using voice commands more often as it's the key interface of the vehicle.
Looking up, BMW provides the option to have a panoramic glass sunroof to give the inside a light and airy feel. Of course, opening it up offers plenty of fresh air on a warm summer's day.
The general view of the inside looks roomy and comfortable, as you'd expect from the brand. However, BMW also highlights a number of storage options, including a folding floor insert and reclining angle for the rear seat to give you more room if you need it.
If you're considering using this new model for towing, you can add the optional trailer tow hitch. This features an adjustable ball head, stability control and anti-theft mounting for extra peace of mind.
Performance
The iX1 uses BMW's fifth-generation eDrive technology and has two electric motors – one on each axle. With these motors, BMW state a combined output of 308bhp. As a result, the SUV's maximum power output reaches 0-62mph in 5.7 seconds, with a top speed of 112mph.
Electric economy
One of the most important things drivers want to know is how far it goes on a full charge. The iX1 has a 64.7kWh battery, and BMW says the model has a range of up to 272 miles.
Charging-wise, the model is said to support charging speeds of up to 127 kW, which could recharge the car up to 80% in around 30 minutes*. However, in reality, many charging stations currently have slower charging times.
* Manufacturers figures are provisional
Smart driver assistance technology
Like many modern cars, you can expect a host of driver assistance features to make your ride safe and comfortable.
BMW's Driving Assistant Professional system ensures you maintain a safe distance and speed within your lane. The handy Reversing Assistant makes light work out of manoeuvring. There's also a Parking Assistant feature to help you get into those awkward parking spaces.
Infotainment
As mentioned previously, the car has an impressive display screen and infotainment system, all controlled from this screen. In addition, the vehicle supports Apple CarPlay® and Android Auto™ to get your favourite apps and music directly through the speakers. Plus, the BMW Maps Connected Navigation app assists on your journey.
What's it like to drive?
This model is expected to go on sale later this year, so few people have been privy to a test drive. However, as with most BMW models and their similar features to the X1, we expect a comfortable and smooth ride with the added bonus of no emissions.
BMW iX1 Car Deals at Leasing Options
The BMW iX1 is set to hit showrooms in November 2022. So, if you're eager to learn more about this new pure electric model, stay up to date with our news and the latest electric leasing deals.