In light of the news that the track in Spain, the Circuit de Barcelona-Catalunya, is set to look different this year, we thought we'd take a moment to delve into the history of some of the longest-serving circuits on the calendar and see how much they've changed since they were built.
Circuit de Barcelona-Catalunya – Spain
The Circuit de Barcelona-Catalunya is one of the most important tracks on the F1 calendar, as it not only hosts the Spanish GP but is also the testing grounds during the winter months. But the circuit has had its ups and downs with F1 fans falling out of love with the track in recent years. However, this could all soon change.
1991 = Debut
With the Catalan government keen to return grand prix racing to Barcelona from Jerez, a new circuit was considered in the mid-'80s. However, it took until 1991 before the circuit opened its doors and the first F1 race took place.
1994 = Nissan Chicane
1994 saw the circuit's first revision following the Imola tragedies. Drivers were concerned about the lack of runoff at the end of the Nissan chicane, which resulted in the quick-fix implementation of an additional chicane that was simply built out of tyre stacks. Fans thought it looked awful but it did allow the race to go ahead.
1995 = Chicane Bypassed
The following year, the track continued in a straight line from Campsa down to La Ciaxa. The Nissan chicane being bypassed altogether.
2004 & 2007 = Overtaking Opportunities Fail
La Caixa was tightened in 2004 to help drivers overtake, as they were finding it hard to follow competitors and utilise slipstreams down the main straight. Then in 2007, an equally unpopular chicane was inserted at the penultimate corner to help things further, but ultimately it did little to improve the overtaking issue.
2023 = Chicane Removed - Original Layout Restored
Ever since then, only very minor adjustments have been made to the track's actual design. However, in February 2023, it was announced that the Circuit de Barcelona-Catalunya would feature a revised configuration for this year's race, declaring that the chicane at turns 14 & 15 would be removed to return the section to its original layout. Finally, a change that has, for now, gone down well with racing fans. Now we just need to wait and see what impact it will have on the upcoming race this June.
Silverstone – Great Britain
1948 = Debut
The first Grand Prix at Silverstone took place in 1948, but the course was a lot different than it is today. The course was previously used as an airbase and the original track used both runways left over from when it was converted.
1949 = Perimeter Roads
The circuit was altered a year later to use the airport's perimeter roads as it was a much safer option, as previously drivers hurtled towards each other with only a blank canvas to protect them from over-shooting tight corners and colliding with oncoming cars.
1952 & 1975 = Pit Lane Relocated & New Chicane Added
In 1952 the Pit lane was relocated and then before the '75 Grand Prix a new chicane was added to reduce speed into Woodcote corner and speed was further reduced with the implementation of the Bridge chicane giving Woodcote its original layout.
1991 - 1995 = Major Redesign
The early '90s saw some of Silverstone's most significant changes. Copse radius was increased, Maggots and Becketts were given esses, Vale was introduced in between Stowe and Club, and an elevation adjustment beyond Abbey was implemented. The biggest change was in the final sector that saw a right turn at Bridge before introducing new corners Priory, Brooklands and Luffield.
Safety concerns grew for Silverstone after the deaths of Roland Ratzenberger and Ayrton Senna that led to corners being tightened at Stowe and Copse, which also had its run-off area increased. Abbey was given a chicane, Vale was straightened into a tighter Club left apex, Priory and Bridge were moved closer together with the Pit lane moved behind a safety wall.
1996 - 1999 = Stowe, Copse, Priory, Brooklands and Luffield Redesigned
In '96, it was great to see a change that increased speed rather than reducing it, as Stowe was re-profiled to today's configuration, giving the corner a fast sweep. This trend continued over the next few years with Copse, Priory, Brooklands and Luffield getting a redesign that resulted in a faster track. The Pit lane entry was also straightened during this period to minimize the time it took for drivers to get from the circuit to the Pits, and once the entry to the Pits had been altered, the track's Pit exit was reduced, again to allow drivers to re-join the race quicker.
2010 & 2011 = New Infield "Arena" Section Introduced & Pit Lane And Start/Finish Line Moved
In 2010, a new infield "arena" was created in time for it to be unveiled at the 2011 British Grand Prix. Changes introduced new corners after Abbey, Farm, Village, The Loop and Aintree, which would all need to be taken before arriving back at Brooklands. And finally, in 2011, the start/finish straight was moved from between Woodcote and Copse to between Club and Abbey.
Albert Park – Australia
1953 = Location Switch
The next track we'll look at is Albert Park. The Australian Grand Prix moved from a location known as Fisherman's Creek in 1953, where the circuit would be formed along public roads around the park but unfortunately, the Grand Prix only lasted around five years before it was brought to an end in 1958 due to political issues.
1996 = GP Returns To Albert Park
For more than 30 years the park fell silent until, in 1996, the Australian GP returned to Albert Park thanks to a new state Premier who brought it back to help boost tourism to the region.
When it returned racing took place in the opposite direction and the track's only section that was the same was Lakeside Drive.
2004 = Pit Lane Chicane Removed
Since then only a few amendments have been made including the removal of the Pit lane chicane and when the V8 Supercar circuit was made, the F1 circuit gained an extra 0.001km.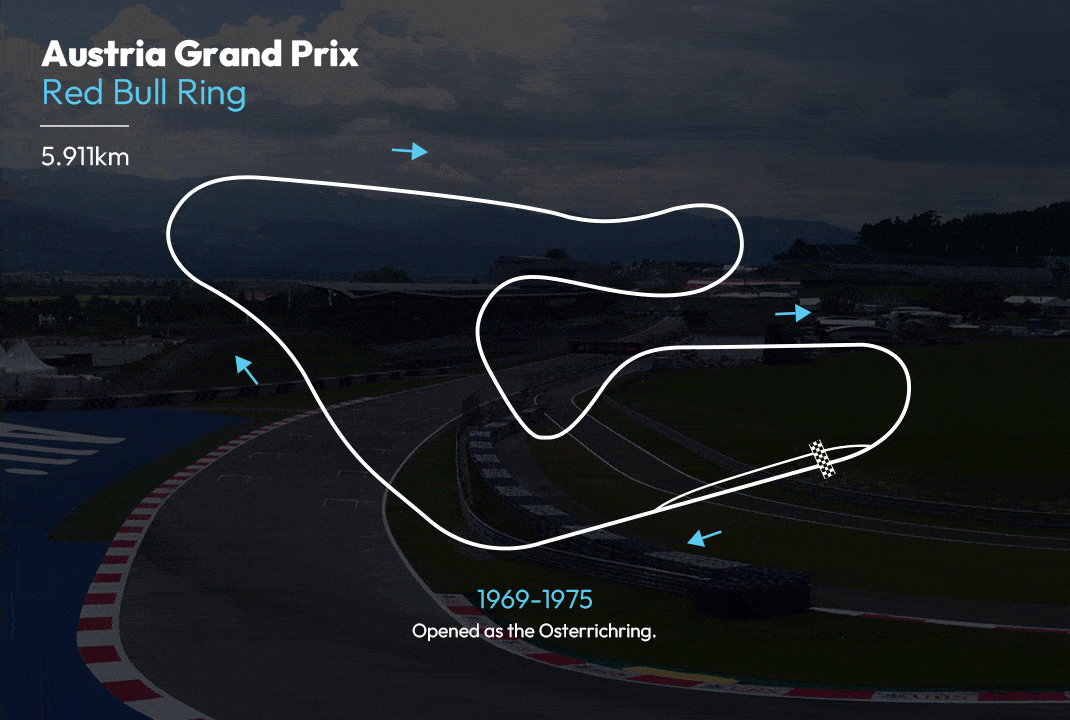 Red Bull Ring – Austria
1969 = Debut
The Red Bull Ring was born in 1969 under its original name 'Osterrichring' and was a fast circuit with similarly breath-taking views of the Styrian hills.
1975 = Corner Tightening & New Chicane Introduced
Unfortunately, it proved to be too fast and after a severe crash in '75 the first corner was slightly tightened to reduce speeds and a chicane was then added to the corner to reduce speeds even further. However, this still didn't prevent crashes and due to its dangerous nature, the track was dropped from the F1 calendar. As a result, the Bosch-Kurve was tightened and the track was widened in places including the start/finish straight that was made three whole metres wider.
1996 = Old Section Out. New Section In
By 1996 full renovations were complete and F1 racing returned to the now-named A1-Ring. The circuit had been dramatically shortened, bypassing the section from Hella-Licht and Tiroch with a new section ending in a tight hairpin before rejoining the old track. The Bosch-Kurve was also replaced by another hairpin and the Texaco-Schikane was also tightened to a squared-off Rindt Kurve.
2005 = Circuit Sold
Alas, due to financial reasons, the circuit was sold to Red Bull who had big plans for the circuit, but this wasn't enough to save the Austrian F1 race as plans were blocked by local authorities.
2014 = Returns Under Red Bull Name
But, in 2014 the F1 calendar did return to a once again renamed Red Bull Ring.
Spa-Francorchamps – Belgium
1921 = Debut
Racing began on the streets of Spa-Francorchamps in the year 1921 as it was perfect for long straights and its rolling countryside roads.
1930 & 1938 = Malmedy Chicane Bypassed And Reinstated
The only stretch of the circuit that changed was the then-known Malmedy chicane that would be removed and used again over the course of an eight-year spell.
1939 = Debut Of Eau Rouge Sequence
But then finally in 1939, one of the most iconic sections of an F1 circuit was born when the race organisers removed the Virage de l'Ancienne Douane, creating the super-fast uphill Eau Rouge sequence, loved by racing fans to this day.
1947-1969 = War Stops Racing
Racing stopped at Spa-Francorchamps due to World War II and resulting repairs had to be made, one of which was a new corner at Stavelot.
1971-1978 = More Malmedy Changes
Between 1971-1978 the Malmedy chicane temporarily returns but is removed again.
1979 = Major Changes Made
In '79 it was obvious major changes needed to be made as more and more fatalities occurred on the track. As a result, cars began turning off the old course before Les Combes and headed down the valley through a fast course before Blanchimont.
1981 & 1982 = Bus Top Introduced & F1 Only Pit Lane
The Bus Stop section was added in '81 with an F1-only Pit lane introduced a year later.
1984 & 1994 = Eau Rouge Chicane
A chicane was added to Eau Rouge in '94 and (thankfully) removed a year later with improved run-off areas.
2001-2004 = Minor Changes
Slight alterations were made to Eau Rouge and Radillon in 2001, the Pits saw an improved entry in 2002 and in '04 the entry at the Bus Stop chicane was altered.
2006 & 2007 = Break-Up & Make-Up
Shockingly, the circuit was dumped from the F1 calendar in 2006 due to further track improvements failing to materialise but thanks to increased funding in '07, new Pit facilities were implemented as well as a revised final section enabling the F1 calendar to return.
Interlagos – Brazil
1939 - 1967 = False Start & Premature End
Racing at Interlagos was supposed to begin in the year 1939 but due to poor weather conditions, it was postponed until the following year. It held motor racing up to 1967 when extensive safety renovations couldn't be put off any longer.
1971 = Another Red Flag
Racing started again in '71 but it wasn't until '73 that it hosted Formula One. Unfortunately, Interlagos' new safety features weren't good enough for the F1 drivers, who complained about its general safety and as a result, F1 racing was pulled.
1990 = Track Reduced, New First Turn, Opposite Direction & Corners Tightened
Before returning in 1990 the track went under a series of extensive changes in preparation. New garages and a race control tower were built with the track being reduced significantly to comply with the new trend for shorter circuits. A new first turn bypassed the old banked corner, plunging downhill and connecting with the old circuit at Curva do Sol and heading in the opposite direction to previously to a revised and tightened corner between the lakes, before heading back up the hill and re-joining the original infield and the climb back to the Pits.
Since these changes, only minor Pit lane alterations have been made and it's known around the world as one of the best circuits in motorsports.
Hockenheimring – Germany
1932 = Debut
The approval for a new race track was given the green light on Christmas Day in 1931 with construction beginning on Germany's newest race track in March and the first Motorcycle race hosted in May.
1938 = Fast Curve
The track's first fundamental changes were made in 1938, adding in the eastern fast curve known as the Ostkurve.
1966 = Introduction Of Motodrom Section
Then in '66, over the two-year spell, the circuit was revamped with the inclusion of a new 'motodrom' section, boasting a new Pit-straight, a fan-friendly stadium and a short course running clockwise.
1970-1980 = Debut Of F1 Racing & Preparations Made
The first F1 Grand Prix to be staged at Hockenheimring happened in 1970. In preparation, two chicanes were inserted on the two main straights, with a new Pit lane constructed 10 years later.
1982 - 1998 = Chicanes Introduces And Amended
The Ostkurve was given a chicane in '82 and was further refined, again, 10 years later. '94 saw the new chicanes tightened to make them tougher and slower.
1999 = Full Reconstruction
Up until 1999, these were the only changes that had been made to the Hockenheimring, however, in 1999 plans for a full reconstruction were laid out in order to keep the F1 Grand Prix at the circuit. A slight straightening to the Pit lane was made this year but in 2002 work began on the major changes including drastically shortening the track, replacing the long-forested section with more tight corners at a cost of 62 million Euros.
F1 is an ever-changing sport. As the mechanics and technicians find ways to make their cars faster and the governing bodies strive to bring more excitement into their races, we're sure it won't be long before more changes are made to these circuits.
Leasing with Leasing Options
Whether you're looking for a car to hurtle around a track with or a small two-seater for inner-city commuting, here at Leasing Options, we've got you covered for all your car leasing needs. We've got a huge range of deals and are always on hand to help you out with anything you need.