What's The Best Family Car To Lease?
When it comes to buying a family car, you have to think about more than what you want as a driver. Your partner and children need to be safe and comfortable, while the car should also be functional and practical.
Read this guide to discover the best family cars, and what to look out for when you are shopping around.
Our best family lease cars
Practical, versatile and with plenty of room, our 10 top picks have lots of family-friendly features to keep you and the kids comfortable on every journey. Ideal for when you need both style and substance, these cars are perfect for any family's lifestyle and are also great value for money – check them out below.
This handsome looking fourth-generation Kia model is ideal for a family of four living in the city, with a host of great features that will add value to day-to-day routines and holiday trips.
Based on the platform of the Volkswagen Golf, the Seat Leon offers great value for money and excellent versatility to match the demands of family life. With a high specification as standard and a youthful and sporty appearance, this Seat is one of the best family cars around and it's easy to see why.
An SUV from Hyundai that is affordable and comes with an impressive list of features. It is also recommended for its safety systems, making it a must for any family. Almost identical in size to the number one on this list, the Kia Sportage, the Tucson has a slightly more mature styling which appeals to a broad audience.
Not only does the Seat Ateca offer style, but it also comes at a very affordable price. Again, with Seat's trademark youthful styling and the fantastic build-quality of the VAG Group, it features plenty of space in the boot and has a safety kit to keep everyone protected.
This is a large, practical car featuring five seats and lots of storage areas within the interior, along with roomy back seats that can be reclined for extra comfort. A must-have for larger families, this Volkswagen is an ever-present car of choice on every family's wish list.
Ideal for families who are searching for a larger car. It drives a lot easier than most SUVs, while also being more spacious and a little bit more stylish than some alternatives. With futuristic Japanese design and reliability, this Mazda is increasing in popularity and not a contender to be overlooked.
You get all the style and comfort you've come to expect with a BMW, while getting a lot more leg and shoulder-room for the family members compared to older 5 Series models. The go to businessman's vehicle has developed into a more versatile and accessible family car.
Families tend to choose this Mercedes-Benz due to its standout space and comfort, while also being incredibly practical, with plenty of luggage space in the boot. The striking Mercedes Diamond Grill gives it fantastic exterior appearance whilst an array of options are included giving it both looks and brains.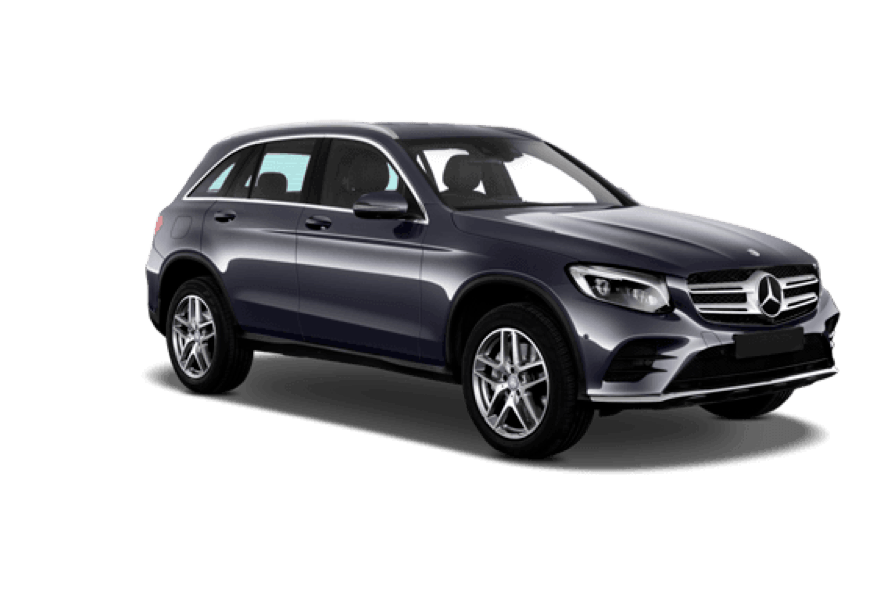 Beautifully finished, the Mercedes C Class not only looks amazing but is also slightly bigger and even cleverer than you'd expect. It's guaranteed to keep the family travelling in style. Slightly more compact than other vehicles on this list, but this Mercedes-Benz is much more imposing when on the road.
Customers love the F-Pace due to its guaranteed high performance, space and style. It's an SUV that's always in demand and one to consider when weighing up your options. Jaguar's first entry into the SUV market set a new standard which it still maintains nearly 5 years after its introduction.
What to look for in a family car?
There is a lot to consider when searching for the right family car. Here are five of the most important things to consider:
1. Budget
Looking at the money available to you is always the best starting point. If you already own a car, it also makes sense to get a realistic valuation so you can figure out how much more you are able to add. You can choose to part exchange your car with Leasing Option for a good rate and remove the hassle of having to sell it yourself.
2. Seating
How many kids or passengers you have, or are planning on having, will determine how large a family car you need to lease.
For example, if you have one or two children and a four-seater seems enough, you should ensure it has ample seating space for child seats. Some city cars tend to have smaller boots which won't provide enough storage space for a family of four. This is especially true if you have younger children as you will need room for the pushchairs in the boot. Most families of five and up may require a people carrier to keep the kids safely in their seats. There are five-seater MPVs available if this is your preferred option. Space has become more important leading to the growth in popularity of SUVs.
3. Safety
Safety is one of the most important things to consider in any type of car, and even more so when it comes to protecting children.
Always look at the standard safety equipment and see if there are any optional extras that can be installed. Side airbags and child lock seats are features to look out for, and a growing number of vehicles are starting to include autopilot, self-parking and driver-monitoring software.
If you can protect family members in the event of a crash, paying a little bit more for preventive or protective systems is more than worth it. The Euro NCAP website regularly updates car safety ratings on any make and model and can quickly provide assurances about the car you have in mind.
4. Fuel
As with any car, you will primarily be using it for the same sort of activities on a daily basis. For a family car, this could be driving to and from school, heading out shopping and doing local family trips. This would be more suited to a petrol car that performs well for regular low-mileage and low-speed usage.
If the family car is also likely to be used for longer journeys at faster speeds; heading to and from work, for example, then a diesel car could be a more cost-effective option.
5. Functionality
When it comes to doing anything with the family, especially with younger children, then making sure it is practical and functional remains the priority. And that doesn't change when it comes to a family car. This could be anything from an autopilot feature to extra cup holders or reversible back seats that allow kids to face each other during longer journeys. Some cars provide backseat AC control, which is something older children would benefit from.
Those longer trips can be testing for everyone involved, which is why entertainment systems have become increasingly popular. If you think it's essential to keep younger children occupied, look into family cars with entertainment systems that allow them to play DVDs or Blu-rays, which is much better than a nine-hour game of eye-spy!
Start your search for the perfect vehicle and find a lease deal for your family with Leasing Options. Make sure to check out our special offers too if you're looking for a reliable car at an even cheaper price.
I need a small family car, which one should I lease?
Cars, like families, come in all shapes and sizes and not everyone can afford - or wants to drive - an SUV or MPV. Small family cars are becoming more popular than ever, whether its hatchbacks, crossovers or estates. But what features make up the best small family car?
As with any size family car, space and safety are two of the most important things to check. Not only will you want a small family-car to provide good storage space in the boot, but you need enough legroom in the back seats. Kids do not like being stuck in one place for too long, and it can frustrate both child and parent if the inside of the car feels too cramped.
Basic safety features should include anti-lock brakes, side-curtain airbags and traction control, which are now included in much more cars on the market. A lot of our customers love the options of reversing cameras and parking sensors. Rear cross-traffic alert systems are also becoming more common in new models. This is hugely beneficial for moments when you are backing out of a parking space, instantly warning you if a car appears in your blind spot to avoid a collision.
How much the car costs to run is also something you need to consider. If the engine isn't efficient and burns through fuel too quickly, you could end up paying a fortune in petrol costs. Also, if the model is known for being unreliable on the road, you may end up having it serviced and repaired many more times than you anticipated, costing money and creating huge inconvenience.
I need a large family car, which one should I lease?
Some families prefer larger cars simply for the extra space they provide. Even if they only have one or two children, the room makes life much easier when driving locally and taking family trips.
In this regard, boot space could be important for things like pushchairs, baby bags or even the shopping and anything else that regularly accompanies you on a daily trip. A good large-family-car should also have plenty of legroom inside, so the kids do not feel too restricted and the adults are able to keep children entertained without too much hassle.
Safety is also of paramount importance, no matter how large or small the vehicle. Look out for all the standard features like anti-lock brakes, traction control, airbags and parking sensors. A more expensive model could offer more advanced technology that may ensure you avoid any unnecessary collisions when reversing out of a parking space and even park itself for you.
Start your search for the perfect vehicle and find a car lease deal for your family with Leasing Options. Make sure to check out our special offers too if you're looking for a reliable car at an even cheaper price.