How Much Does It Cost To Lease A Volkswagen?
Discover how you can lease a brand new Volkswagen for under £250 a month with the price comparison guide from Leasing Options.
How much is a Volkswagen lease?
It costs from around £150 per month to lease a Volkswagen, with prices going up to around £600 for higher end models.
Here at Leasing Options, we've compared three popular models, so read on to find out the best car to suit your budget.
Volkswagen lease price comparison
Under £250
Under £350
Under £400
Model
Volkswagen Up
Volkswagen Arteon
Volkswagen T-Cross
Trim Level
Hatchback Take Up
Fastback TDI R Line
Estate Special Edition TSI 115
Manufacturer Cost
£9,125
£34,565
£22,930
Fuel
Petrol
Diesel
Petrol
Tank Size
35 litres
66 litres
40 litres
Engine Size
0.999 litre
1.968 litre
0.999 litre
Cylinders
3
4
3
Top Speed
101 mph
138 mph
120 mph
CO2 Emissions
101 g/km
112 g/km
115 g/km
Miles Per Gallon
64.2 mpg
67.3 mpg
55.3 mpg
Transmission
Manual
Manual
Manual
Gears
5 Speed
6 Speed
6 Speed
Wheel Size
14" alloy
19" alloy
18" alloy
Weight
1320 kg
2140 kg
1730 kg
Dimensions
(H x L x W)
1504 x 3600 x 1645 mm
1450 x 4862 x 1871 mm
1584 x 4235 x 1799 mm
Estimated Annual
Road Tax
£20
£140
£145
Doors
3
5
5
Seats
4
5
5
Standard Equipment
Speed Sensitive Power Steering
Misfuel Prevention Device
Adaptive Cruise Control
Rev Counter
8" Touch Screen
Beats Audio System
2 Speakers
Traffic Message Channel
Smartphone Compatibility USB Cable
Luggage Compartment Lighting
Remote Tailgate Release
Heated Door Mirrors
Safety Features
2 Remote Folding Keys
Pedestrian Detection
Roadside Assistance
Seatbelt Warning Lamp
Active Bonnet
Blind Spot Detection
'Lights On' Buzzer
Wok Head Restraints
Ecall Emergency System
Tyre Pressure Warning
Anti-Theft Wheel Bolts
Crash Preventative Protection
Extra Options
Mats
Heated Windscreen
A Range Of Different Paints And Trims
City Emergency Braking Pack
Dynamic Chassis Control
Specialist Paint
Voice Control System
Spare Wheel
Parking Sensors
*Price estimates are based on a personal, 4 year lease contract with a 6-month initial rental and an 8,000 annual mileage. Information and costs should be used as a guide only and are subject to change at any time. A sample of standard equipment, safety features and extra options have been selected.
Leasing a Volkswagen for under £250 per month
The rise in popularity of smaller cars continues to grow and the Volkswagen Up Hatchback Take Up is up there with the very best of them. Since first hitting the roads back in 2012, it became the benchmark for similar cars in its class and its performance levels remain just as strong today.
There is a style to the Volkswagen Up that sets it apart from the competition. It also manages to feel like a larger car than it actually is, as its four seats are surprisingly spacious, which is good news for small families. In addition, the 0.999 litre, 3-cylinder petrol engine is now the largest that has appeared in any of the models since first joining the market.
CO2 emissions are at a very low 101g/km, with maximum speed levels set at 101mph, making it ideal for city use, and the 35 litre tank gets through just over 64 miles to the gallon. There are several trim options available, and each one comes complete with luggage compartment lighting, a rev counter, 2 high-quality speakers and speed sensitive power steering.
Safety is never in doubt as the Volkswagen Up comes with a 5-star Euro NCAP crash-testing rating, along with seatbelt warning lamps, 2 remote folding keys, a
'Lights On' buzzer and a tyre pressure warning system. If you want to push the boat out a little more, extra options include the city emergency braking pack, mats, a spare wheel and specialist paintwork.
Leasing a Volkswagen for under £350 per month
The Volkswagen Arteon Fastback TDI R Line is a stylish saloon that brings with it a handsome design and an interior filled with a fantastic range of tech. Retailing at over £35,000, this exceptional car is available to Leasing Options' customers for under £350 each month, giving you access to a family friendly vehicle that is both affordable and a pleasure to drive.
This Arteon is one of Volkswagen's more upmarket cars, combining style and practicality, which is why it remains such a popular choice. The 1.968, four-cylinder diesel engine offers just the right level of power for most drivers, with a 6-speed manual transmission gearbox and a top speed of 138mph to match.
Large 19" alloys add to the eye-catching design and the 66 litre fuel tank provides plenty of room, with just over 67 miles to the gallon being used. CO2 emission rates are also low, coming in at only 112g/km.
Standard equipment on every trim includes a remote tailgate release, an 8" touchscreen, a misfuel prevention device to help avoid costly damage, plus a traffic message channel to keep you updated on any potential jams.
To add even more features to an already stacked car, you can also include parking sensors, a heated windscreen, dynamic chassis control to firm or soften the ride, plus a voice control system. Safety options haven't been overlooked either, with pedestrian detection, anti-theft wheel bolts, an active bonnet and WOK head restraints provided as part of the package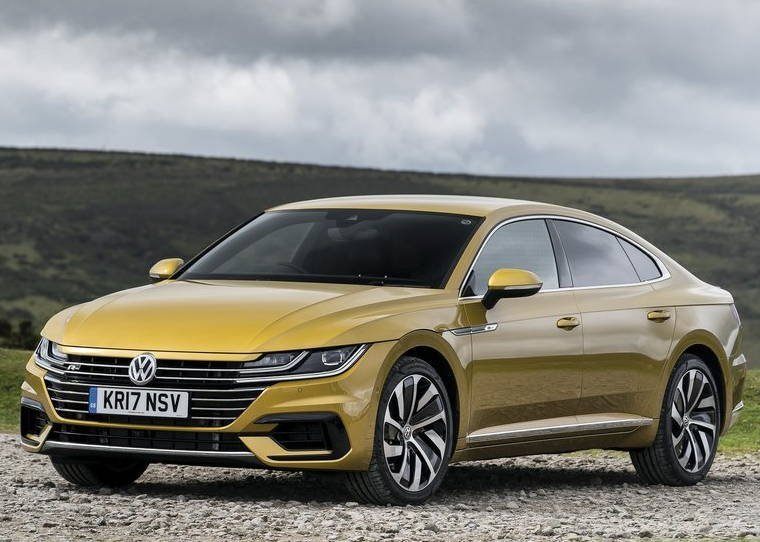 Leasing a Volkswagen for under £400 per month
Although it is the smallest SUV in their range, the Volkswagen T-Cross Estate Special Edition TSI 115 still has plenty offer. It's a smartly designed, spacious and well-equipped car that is available to purchase outright for just under £23,000.
If that seems a little out of your budget and price range, the good news is you can hire the T-Cross with Leasing Options for under £400 a month, enabling you to drive one of the best small SUVs on the market today.
The T-Drive guarantees a comfortable ride that is both quiet and non-intrusive, even when powering down the motorway. Looking under the bonnet you'll find a 0.999 litre, three-cylinder petrol engine working in tandem with a 6-speed manual transmission gearbox that can get you up to speeds of 120mph.
With five doors and five seats there is plenty of space on offer, with a standard storage space of 385 litres, which can expand into as much as 455 litres depending on the configuration. Equipment that comes as standard with the T-Cross includes adaptive cruise control, heated door windows and a cutting-edge Beats audio system.
You also get a good selection of safety features with the eCall emergency system, blind spot detection, roadside assistance and a crash preventative protection installed. When it comes to extra options, there is a great range of different paints and trims to choose from, allowing you to put together your perfect car for the next few years.
Why should you lease a Volkswagen?
Wherever you go in the world, you can guarantee you will see people driving Volkswagen cars. The German manufacturer is one of the biggest brands in the world, with motorists everywhere relying on their affordability, strength of design and dependability.
When you are weighing up the pros and cons of leasing a Volkswagen there will be a number of things to consider. One of the main priorities will be budget and how much you can afford. What's great about leasing a Volkswagen is it provides a cheaper alternative to buying a car outright.
Plus, once the contract has finished, you decide what to do next. We always have a fantastic range of the latest Volkswagen models available, so you can choose to take another new car, or just hand back the keys and we'll take care of the rest.
Explore a wide range of Volkswagen lease deals available online and find the best value at Leasing Options. Make sure to see our special offers too, where you could find even lower prices on Volkswagen cars in stock now.